GIS product flexibility and an effective feedback loop between the two partners leads to confidence in meeting future challenges
Industrial Inkjet Limited (IIJ) is a rapidly expanding company with global expertise in providing monochrome and colour inkjet print engine systems for customers across diverse markets.
IIJ's partnership with GIS has been going strong for over 10 years. When the IIJ team started the development of their Colourprint 72 single pass print engine, they contacted GIS for software, printhead electronics and technical support for the essential components needed.
"Without doubt, GIS has enabled IIJ to grow," says Paddy O'Hara, Business Development Director, and with the partnership benefitting both companies, a close relationship has developed. This has meant that product quality and performance requirements can quickly be fed back to GIS, influencing feature development and product performance of the GIS software and drive electronics.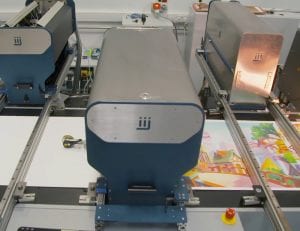 IIJ's print engines are integrated into a wide range of applications from full colour product decoration to monochrome barcode printing. A key requirement for this equipment is a compact form factor, as this allows improved flexibility during installation. The flexibility and scalability of GIS software and electronics product range has meant that it can be found in all IIJ products from their smallest 72mm wide print engines through to their latest wide format Monoprint 775i.
GIS' capability of high-speed variable data printing enables IIJ to meet the most demanding requirements. "GIS' variable data engine is extremely powerful," says O'Hara. "The software is much simpler and faster than trying to RIP every image for just a small area of variable text." The GIS variable data engine overlays the variable part of a pdf so creating a single static background that only needs to be RIP'd once.  Smaller amounts of variable data can be processed faster, thereby increasing the production capacity.
This powerful variable data printing capability has allowed IIJ to target more markets, such as the garment industry, where they are able to print variable data onto clothing tags. With the increased use of RFID in the industry, being able to print human readable data that is contained in the RFID chips at high speed has really helped IIJ gain a foothold.  Moreover, experience gained in this sector is transferable to others, such as high-value consumer goods.
With IIJ's experience and expertise in print engine manufacture and variable data handling, it has been a natural step for the company to move into security printing. The security printing sector is ever evolving, as governments and companies are in a constant technology race with counterfeiters. The security applications vary enormously – from security labels for high-value products to passports and money notes. Most security applications are a hybrid solution of digital and flexo / litho printing techniques. This combination is often a challenge to integrate due to the speed and positioning of the overprint. "Being able to match not only the top speed, but also to cope with accelerations and at the same time ensuring we can overprint at the correct position is critical for our print engines," says O'Hara.  "However, by using the GIS software, we no longer see these issues when integrating onto existing lines due to its flexibility. Different systems have different inputs both in terms of electrical and software requirements, and the ability to easily change resolutions, etc., allows the GIS software to be tailored not only to the line, but also for different job types."
A further challenge is seen when the overprinting is onto a product that has been part processed prior to the variable data being applied. It is important that the variable information is overprinted in the correct position on the substrate, such as in the printing of information onto ID cards and passports. In such cases, the pages or cards have the background image printed using traditional offset methods, and then sheets are pre-cut prior to the variable information being applied. This two-step process can introduce tolerance errors where the substrate has been cut, with potential for the data to be printed in the wrong place. Being able to ensure that the this does not happen is made possible by the GIS dynamic XY positioning software. This identifies where on the substrate data needs to be printed and shifts the image by the required distance, so ensuring that an individual photo or address appears in the correct location.
So where next for IIJ? With the flexibility of their print engines and expertise gained through highly data demanding sectors, the company is ideally positioned to be able to take advantage of the continued requirement for traceability across different sectors. The continued partnership between IIJ and GIS will continue to meet all future challenges.
We are proud of what we do and how we do it
Our products drive thousands of inkjet printheads in single pass and scanning systems worldwide