Hardware, Software and Electronics for Ink Delivery Systems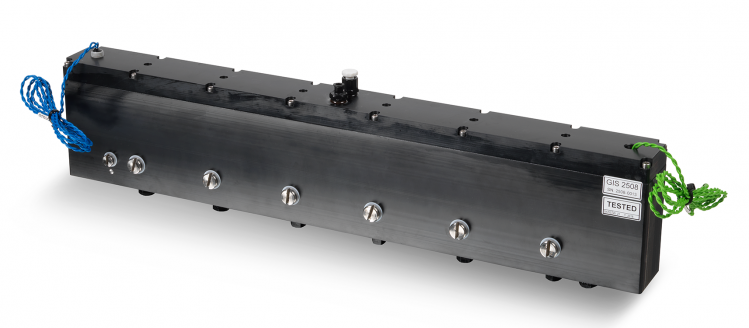 Delivery Systems for Inks and Fluids
GIS provides a range of components for Ink Delivery Systems (IDS), including standalone electronics and software for ink supply system control, as well as inkjet header tanks, system controls for pressure, filtration, heating and degassing, plus system design consultancy.
The GIS IDS components can be used with most industrial inkjet printheads and ink types, including aqueous, UV curable and functional fluids – subject to materials compatibility tests.
This modular solution, combined with design consultancy, allows machine builders and OEMs to integrate customised solutions according to their commercial and technical needs.
GIS IDS components can be integrated with 3rd party printhead drive electronics – this is a standalone product offering.
GIS Software and Electronics for IDS
We collaborate with customers to design and configure a system tailored to your specific requirements. Furthermore, we design custom parts if required and we adopt a 'building block' approach.
Each Ethernet networked GIS ink control board (ISC-IMB-I6) can control from 1 to 6 fluids/inks independently. Two or more boards can be connected for systems that require 7 – 12 fluids/inks and beyond.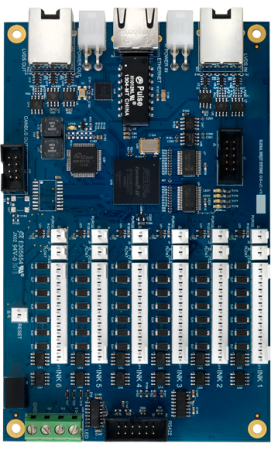 System Controls
Up to six different fluids per control card
Multiple control cards for more than 6 fluids
Independent ink purge
Overnight and weekend switch off (automatic on power off) – offers limited head drip
Long-term switch-off (manual)
Non circulating (end shooter) & recirculating capable
Recirculating modes: High Flow/Low Flow/Controlled Flow
High pressure purge
Low pressure purge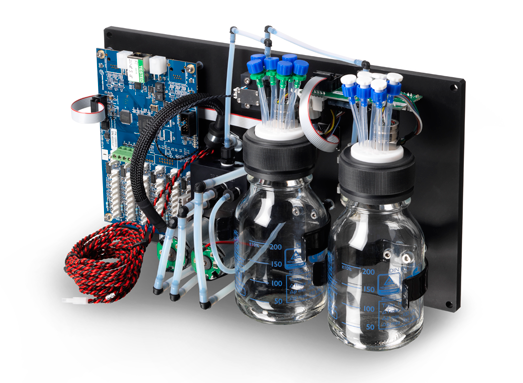 System Controls
Easy printhead change (system does not require draining)
Fault detection
In-line and header tank heater options
Ink degasser
Control cards can be daisy chained for more fluids
Single cable can bus link to header tanks (1 per colour)
Header tanks can be daisy chained together
Runs from 24V supply
Ethernet cable to PC
Header Tanks
GIS offers a range of standard and customised header tank designs. Each standard tank can support up to two printheads per tank.  Larger header tanks are available for wider printhead arrays.  GIS header tanks are also designed to consider different flow modes, space restrictions and ink capacity requirements for different applications and printer sizes.
Header Tank Features and Controls
Integral overflow protection
Integral pressure sensor(s)
Integral control valves for switching between modes and auto switch off
Manual valve per head (for easy head replacement) and long term switch off
Swagelok stainless steel ink tube connectors to printhead
Luer-lok connectors for ink in/out
Careful design to minimise pigment traps and to encourage air bubble release
Sized to feed number of printheads per ink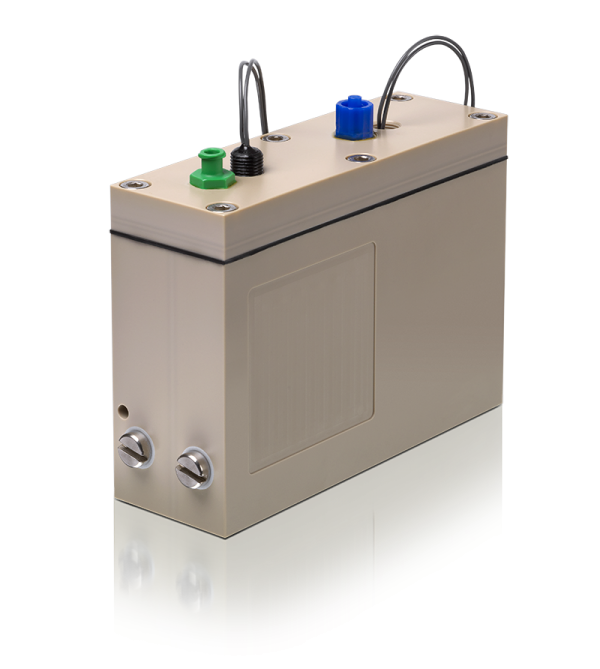 PEEK Header Tank
The PEEK Header Tank from GIS offers extended materials deposition compatibility.
It is specifically designed to offer high resistance to aggressive fluids, incorporating an FFKM gasket.  As with all GIS header tanks, the PEEK version is available in different sizes according to each system's requirements.
Purge Control
Low pressure purge
Used for most printhead types
For end shooter and recirculating systems
High pressure purge
Pressure built up to circa 1 bar before releasing to header tanks
Optional support for external high pressure source
The GIS IDS Components can be used with printheads with different ink flow modes:
No flow for end shooter printheads
Low flow recirculating end shooter printheads using inks that can benefit from recirculation
Controlled, adjustable flow recirculating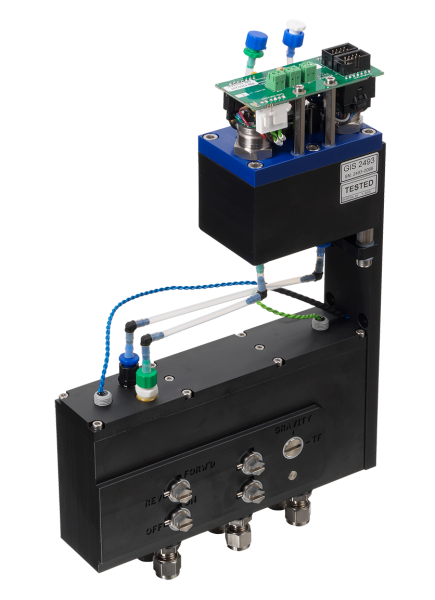 Download Brochure
GIS Ink Delivery System Components
Click the link below to download the pdf brochure: