Since 2012, Notion Systems has been developing leading-edge industrial inkjet printing systems for functional materials, providing a much-needed solution to resolve challenges in R&D and production – including improving manufacturing speed, replacing subtractive processes, and reducing energy and waste.
Designed and built in-house, Notion Systems' printers are easy to scale for various applications and range from desktop R&D and lab-scale devices to tailor-made industrial products with multiple printheads and specific inks.
Their technology platform covers five key areas:
Industrial Solutions
Display
Electronics
Semiconductor
3D Printing
All printers are based on the flexible n.jet platform – a modular inkjet system that can be configured with different printhead assemblies for different end-user requirements.  The n.jet display series prints various functional layers – RGB, encapsulation, light blocking, switching and guiding layers – for rigid, flexible, OLED, QLED and LCD display production; the n.jet electronics series includes systems for solder mask, UV curable etch resist and roll2roll applications; the n.jet semicon offers solutions for frontend and backend processes in the semiconductor industry including photo resist printing, deposition of sensor active inks, chip packaging and printing of dielectrics, conductive, resists and adhesives; and finally the n.jet optics 3D printer for advanced optics' applications and precision parts.
Notion Systems develops strategic partnerships with key suppliers, such as Osiris for automation, and for their inkjet technology they have a long-standing partnership with Global Inkjet Systems (GIS). For over eight years, GIS has worked closely with the R&D team at Notion Systems, providing high-quality inkjet components to meet exacting development requirements. GIS drive electronics support most leading inkjet printheads and the company's highly qualified team provides valuable R&D and technical support, regardless of the size of system or the complexity of the application.
"Notion Systems does not construct a standard 3D printer. Typically, specially developed features are added to enhance productivity, speed, and print quality and, because of this we look for partners who can accommodate our unique application requirements," comments Antonio Schmidt, Senior Vice President of Sales and Marketing. "GIS was the natural choice for us, as they understand the challenges faced in our process and are flexible enough to make changes and provide compensation tools and components that deliver a stable end-to-end solution. They also offer fast and efficient ongoing customer support, which is vitally important to our development teams."
Antonio sees the replacement of subtractive processes as a key driver now in the fast-growing display, PCB, and semiconductor industry, with additive manufacturing allowing for a much broader scope when it comes to component complexity. "We operate in an ever-evolving environment, and collaborating with partners like GIS, who understand the intrinsic limitations and intricacies of our inkjet printing applications and can provide fit-for-purpose solutions swiftly, allows us to continue to evolve and achieve our goal to change previously limiting and wasteful manufacturing processes into one additive manufacturing step."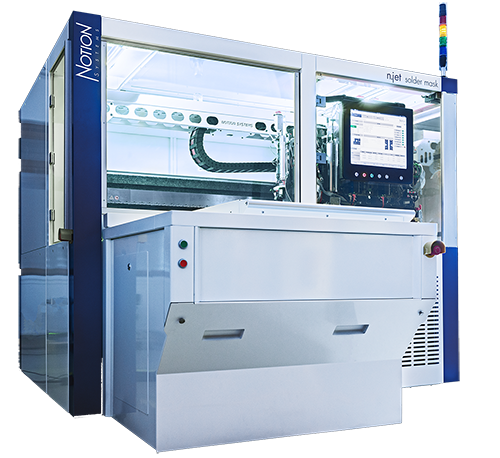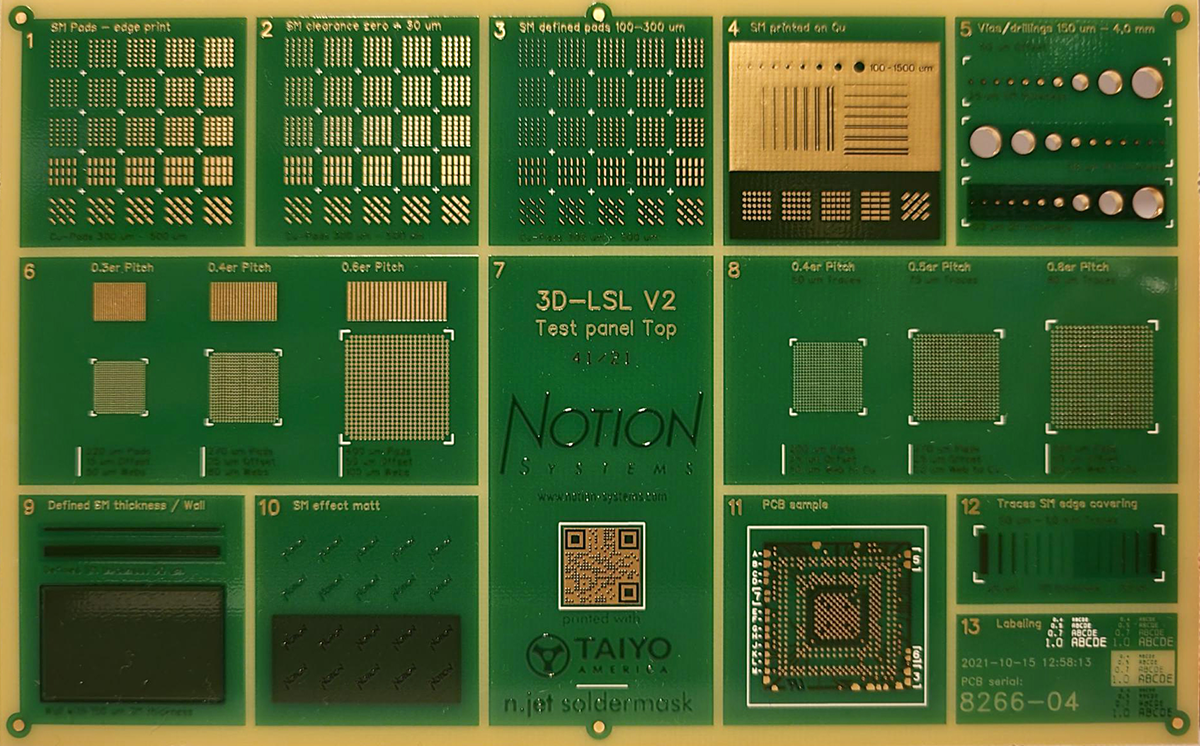 PCB Sample: n.jet soldermask offers 4-point alignment for accuracy in dimensional changes – critical capabilities for rigid flex designs
We are proud of what we do and how we do it
Our products drive thousands of inkjet printheads in single pass and scanning systems worldwide